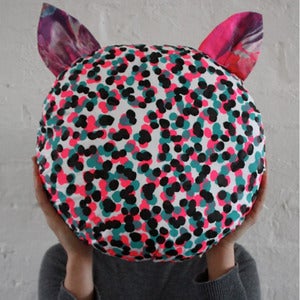 Laziest credit line in magazine universe? I'm loving [insert...this bed, table, chair] right now. Every time I read it I want to throw some coins in a jar. That way I know I'll get to the Bahamas by Christmas.
But for this cushion I will make an exception. Love it. Love those clever Harvest girls and love the fact that with two of these on the couch I could have pets in my home.
I'm writing this with one eye on the couch and another on my new plush rug wondering, could I get away with it. If the room has a flavour, it's Pacific Pop. The new rug – bold black and rust orange stripes – is taking it in another direction. It's introduced some tertiary shades into the equation. Can it take flouro? Here's hoping. Because, did I mention I love these?
Harvest Textiles
40 cm across $70